OTIS Wireless Gas sensor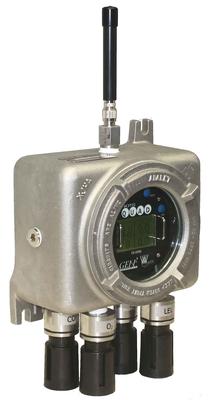 The GenII OTIS Wireless Gas sensor OI-6940 Quad is a battery-powered explosion-proof 4-gas sensor assembly that simultaneously uses up to four sensors—Electrochemical or Low-Power Infrared—for sensing an array of toxic gases in ambient air. It has the ability to measure H2S, O2, SO2, CL2, H2, NH3, CO, LEL (hydrocarbons), and more. The Quad comes standard with a 160x104 pixel graphical LCD screen, four-button interface, non-intrusive magnetic switches, and one radio (900 MHz or 2.4 GHz). Like other sensor assemblies, the Quad features non-intrusive calibration and configuration. With all adjustments made at the sensor assembly, one-man non-intrusive calibration is quick, easy, and allows the sensor housing and enclosure to remain Class I, Division 1, Group C and D certified while in the field. Non-intrusive calibration is made possible by using an, Inc. distributed magnet to activate the MENU, BACK, ADD, and SUB buttons. The Quad is designed to be self-contained and to last for up to 6 months using a 3.6V 76 Amp Hour battery-packs. The Quad is field adjustable for background gas, and addressable to eliminate interference with other systems. The device has been designed to reject EMI and other forms of interference in order to avoid false gas readings.
Value
The world that we live in, continuously is changing, becoming more mobile. The greatest value the ads is its wireless technology. With time saving setup and maintenance, the capability to use multiple receivers and the ability to use remote monitoring. With the wire free technology, the risk of malfunction due to cut or faulty wires are eliminated. Also, with the removal of wires, this decreases the number of certified electrical technicians that are needed on the field at one time. With WireFree technology, no wires are necessary from the sensor assemblies to the Monitor or from external power source to the main sensor. When a company is considering wireless gas detectors the first question is usually safety. With the instrument, the remote monitoring capabilities that wireless gas detection provides, via radio communication, allows sensor assemblies to be setup throughout a site while the controlling monitor may be setup miles away. Alarms for notification of gas presence at the monitor, as well as at the sensor assemblies, notifying staff that there's danger at the site—before entering the premises.
Conclusion
Diamond Scientific offers cutting edge wireless technology that provides companies with safe and dependable products. The Wireless Gas sensor is easy to use, offer quality safety standards, and reliable results. Contact us today at Diamond Scientific to see how you can add this product to your company.