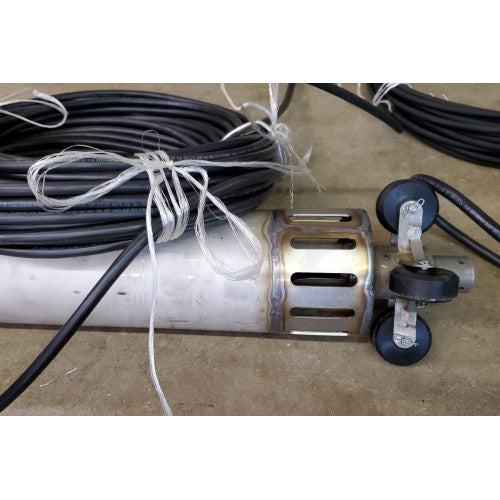 Sump Drainer - EPG SurePump
Free Express Shipping
Free 30 Day Returns
ISO

35+

Years of Experience

Competitive Pricing

VOSB and HUBZONE Certified Company
Description
EPG SurePump Sump Drainer
EPG SurePump™ Sump Drainers provide superior performance and accurate liquid level reading for horizontal side slope risers and vertical leachate and groundwater sump applications. The SurePump™ is completely sealed and built with stainless steel to survive and operate in harsh environments.  However, unlike competitor models, the SurePump™ draws liquid over or past the motor, maximizing cooling and extending the lifespan of the pump.
At least four wheels are in contact with the riser pipe at all times and the submersible level sensor is mounted along the center axis of the sump drainer to assure an accurate level reading no matter how the pump turns.
The bearings and seal rings are bonded to the stainless steel rather than press fit. This allows the SurePump to work in applications where other designs fail.
Product Features:
Stainless steel construction

Corrosion resistant E-Glide™ bearings and seal rings for extra durability

Sealed unit with liquid flow drawn past motor for cooling

Facilitates draw-down to the near bottom of the vessel

Chemical resistant jacketed, no-splice, CP motor lead

Vent valve system purges air from the sump drainer preventing pump air lock

Flow rates available from 2 – 1,200 gpm

UL listed control panels are available for simple, trouble-free control