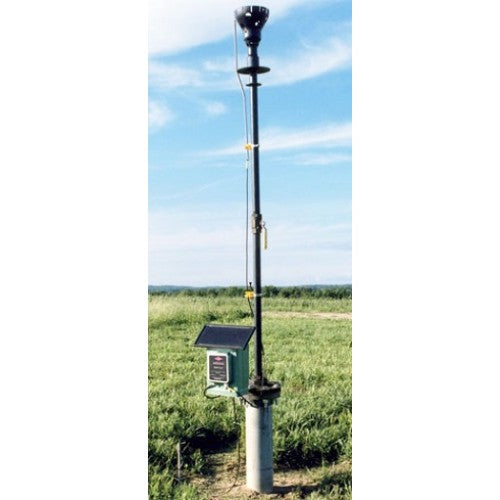 Vent Flare - EPG Solar Spark
Free Express Shipping
Free 30 Day Returns
ISO

35+

Years of Experience

Competitive Pricing

VOSB and HUBZONE Certified Company
Description
EPG Solar Spark Vent Flare
Solar Spark® Vent Flares are widely used for odor and emission control at passive outlets, such as cap vents, leachate stations, or from gas outbreaks at the surface of active or closed landfill cells.
These units are ruggedly constructed for long life and feature solar-powered continuous ignition with very low maintenance requirements. Mounting hardware is versatile and can be provided to adapt to any situation.
Applications:
Solar Spark® Vent Flares are typically used on landfill gas vents, wells, or leachate system cleanout lines to combust flammable gases. Solar Spark® Vent Flares combust flammable gases at low ambient pressure without the need for blowers or external power, making them ideal for not only landfills, but any application involving surface emissions.
Standard Features Include:
• All Weather Stainless Steel Spark-Pilot
• Solar-Powered Continuous Ignition System, 6-Volt Or 12-Volt
• Stainless Steel Ball Valve
• Inline Flame Arrester
• 2-90 SCFM or 5-140 SCFM Flow Rates
Optional Accessories Include:
• Solar-Powered Vacuum Fan
• Stainless Steel Visibility Shield
• Cold Weather Insulation Kit
• Guy Wire Kit
• Data Logger Kit with Thermocouple and Flame Pilot Tube
• Propane Tank Gas Combustion Kit
• Redundant Safety Ignition System

Other uses:
• Dairy and Animal Feeding Facilities and Farms
• Wastewater Treatment Plants
• Biogas Facilities
• Petroleum or Natural Gas Production and Transmission
• Eliminates foul odors and VOC's (volatile organic compounds) emanating from the landfill