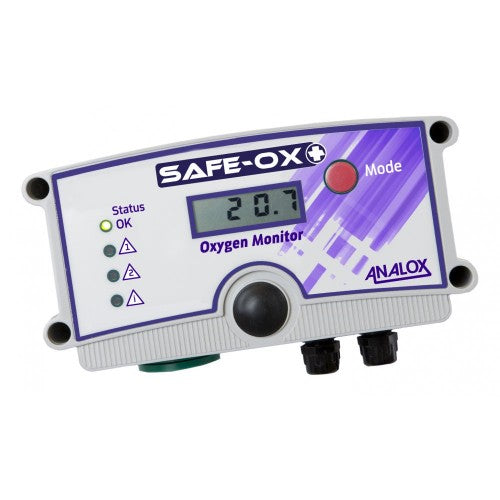 Medical O2 Monitor - Analox SAFE-OX+
SKU SafeOx GTIN : 65298691
Free Express Shipping
Free 30 Day Returns
ISO

35+

Years of Experience

Competitive Pricing

VOSB and HUBZONE Certified Company
Description
SAFE-OX+: Medical Oxygen Enrichment and Depletion Monitor
Enriched oxygen (O2) is used in many medical treatments, including Chronic Obstructive Pulmonary Disease (COPD), hypothermia, treatment of hemorrhage and shock, as well as during anesthesia. However, a buildup of enriched oxygen can pose a fire/explosion risk due to the flammability of O2.  Additionally, an excess or lack of O2 during an enriched oxygen treatment can be detrimental to the health of the patient.
The Safe-Ox+ oxygen enrichment and depletion sensor can be used to monitor levels of O2 which may build up during these treatments.
This monitor has alarm set points of 19.5% and 23% O2, making it ideal for monitoring oxygen levels where inert gases such as nitrogen, argon or helium pose a risk of depleting O2 levels and/or enriched oxygen poses a fire risk.
The Safe-Ox+ main sensor unit is wall mounted at normal working head height in the area/s recommended by risk assessment results, often where the gases are stored or piped. The repeater unit/s (powered by the main unit) are then sited at the entrance to the area to provide an early warning before entering.
Industries using enriched oxygen include:
Scuba diving

Commercial diving

Hyperbaric oxygen therapy (HBOT)

Gas production and gas blending stations

Medical gases such as nitrous oxide/oxygen mixes

Sulphuric and nitric acid manufacture

Mining

Steel manufacture and metal refining

Aquaculture

Glass manufacture
Gas detected: High and low oxygen levels

Mode of operation: Electrochemical

Range: 0.1 to 25%

Alarm set points: 19.5 and 23%

Accuracy: Better than ± 0.75% O2 over 0.1 to 25% O2

Response time: 15 seconds

Warm up time: 10 seconds

Resolution: 0.1% O2

Warranty: 1 year
Analyzer type: Fixed

Power: 230V AC, 110V AC or 24V DC

Power consumption: <5 VA

Display: 4 digit LCD

Operating temperature: 0 to 40°C

Output options: 4 to 20mA, 2 x relays, 0 to 1V

Dimensions: 175 x 110 x 75mm (analyser) / 72 x 170 x 45mm (repeater)

IP rating: IP65 (apart from quick connect repeater which is IP43)

Warranty: 2 years electrical
Analyzer approvals: EMC Directive 89/336/EEC (EN50270:1999, EN61000- 6-3:2001+A11:2004) Low Voltage Directive 73/23/EEC (BS EN 61010-1:2001, IEC 61010-1(2ed)) AS61610.1-2003 (Australia & New Zealand) CSA (cCSAus), Master Contract 239512, Certificate 1909026