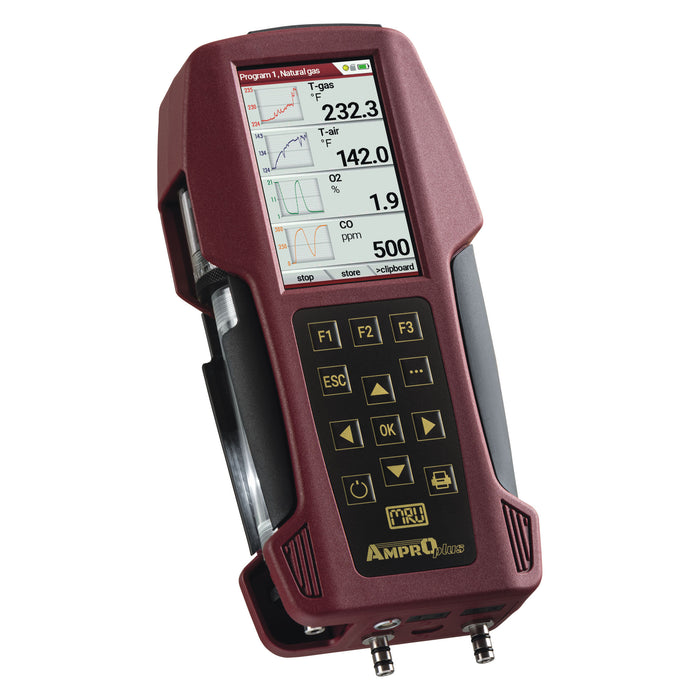 MRU AMPRO PLUS - Handheld Combustion Gas Analyzer
Save up to

0

%
Save %
Original price
$2,367.00
-
Original price
$4,887.00
SKU GTIN : GTIN : 00748291 GTIN : 00781059 GTIN : 07138051 GTIN : 07170819 GTIN : 07203587 GTIN :
Free Express Shipping
Free 30 Day Returns
ISO

35+

Years of Experience

Competitive Pricing

VOSB and HUBZONE Certified Company
Description
MRU is a German company making extremely well-engineered biogas, emission, combustion and Handheld Combustion Gas Analyzer for both stationary and portable applications. Their products are very durable and constructed to withstand everyday use in punishing environments.
The AMPRO PLUS is one of the most powerful Handheld portable gas analyzers suitable for monitoring combustion and industrial processes. The price for MRU AMPRO Plus combustion represents the unit-only price. Please call (321) 223-7500 for information.
Simultaneous measurements of up to 7 gas components is possible through the MRU AMPRO PLUS

Emission calculations including: mg/m3, NO(x) as mg/m3 NO2, true measurement of NO(x) = NO + NO2, O2, CO2, CO, NO, NO2, SO2 & H2S

Gas temperature measurement up to 2,012°F (with stainless steel up to 1,200°F, with Inconel tubes up to 2,012°F)

Mini-USB for cable data transfer

Large condensate separator with PTFE (Teflon) coated filter

Air purging pump for CO-sensor protection

Internal data storage for up to 16,000 measurements which makes it a powerful handheld oxygen analyzer

High energy lithium ion battery (up to 15 hours operation time / with NDIR approx. 6 to 8 hrs.)

Color backlit 3.5″ TFT display with zoom function

Customizable screen settings

Durable and dirt resistant keypad

IR interface for optional external printer

Integrated SD card reader for additional data storage and data transfer to PC
MRU AMPRO PLUS Gas Analyzer Package Options
Ampro Plus Analyzer

O2 / CO and CO2*1 sensors

Industrial probe with 9' sampling line and 12" exchangeable probe tube

Transport Case
Ampro Plus Analyzer

O2 / CO and CO2*1 sensors

Transport Case

IR printer

Industrial probe with 9' sampling line and 12" exchangeable probe tube
Ampro Plus Analyzer

O2 / CO / NO and CO2*1 sensors

Industrial probe with 9' sampling line and 12" exchangeable probe tube

NO measurement (0...1,000ppm / 5,000ppm) and calculated NOx

Transport Case
Ampro Plus Analyzer

O2 / CO / NO and CO2*1 sensors

IR printer 

Transport Case

Industrial probe with 9' sampling line and 12" exchangeable probe tube

NO measurement (0...1,000ppm / 5,000ppm) and calculated NOx
Ampro Plus Analyzer

O2 / CO / NO / NO2 and CO2*1 sensors

Industrial probe with 9' sampling line and 12" exchangeable probe tube

NO measurement (0...1,000ppm / 5,000ppm) and calculated NOx

NO2 measurement (0...200ppm / 1,000ppm) - TRUE NOx

Transport Case
Ampro Plus Analyzer

O2 / CO / NO / NO2 and CO2*1 sensors

Industrial probe with 9' sampling line and 12" exchangeable probe tube

NO measurement (0...1,000ppm / 5,000ppm) and calculated NOx

NO2 measurement (0...200ppm / 1,000ppm) - TRUE NOx

Transport Case

IR Printer