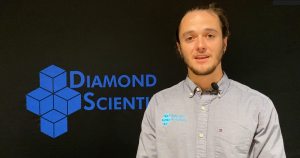 Marrs Promoted to Director (Bio) Gas Systems
Cocoa, Florida. February 17, 2023
We are pleased to announce the promotion of Shane Marrs to (Bio)Gas Systems Director  and Site Director of Diamond Scientific's new Port Huron, MI location. Marrs joined the company in 2020 as an equipment service technician.
His expertise and professionalism quickly established Shane as the Diamond's go-to subject matter expert with Biogas solutions, even taking lead in the company's "Diamond Product Series" line of Youtube videos.
Marrs' lifelong fascination with the natural world has been a major driving force throughout his life, earning his degree in Biology: Conservation of Natural Resources. He joined Diamond following a stint as a research assistant for a Sloth rehabilitation and release program.
"We are incredibly proud of Shane and all he's been able to accomplish in his time with Diamond Scientific," said company CEO Ramon Rivera. "We have the utmost confidence he is the right person to helm our new Midwest office and capitalize on the growth of the Biogas industry."
"Starting-up and running our new Midwest Diamond location in my home-state, Michigan. I am very much looking forward to seeing the opportunities and advancements we can create in cooperation with our local communities and environmental pioneers," said Marrs.
Diamond Scientific is a Veteran Owned-VOSB, HUBZone, DOT-DBE company. We constantly seek opportunities and products that will contribute to a better world. By providing equipment that will offer environmental benefits, as well as cost benefits to those pursuing alternative energy solutions, we hope to do our part to lessen the impact of energy production on our environment and climate.
Send Inquiry For More Info