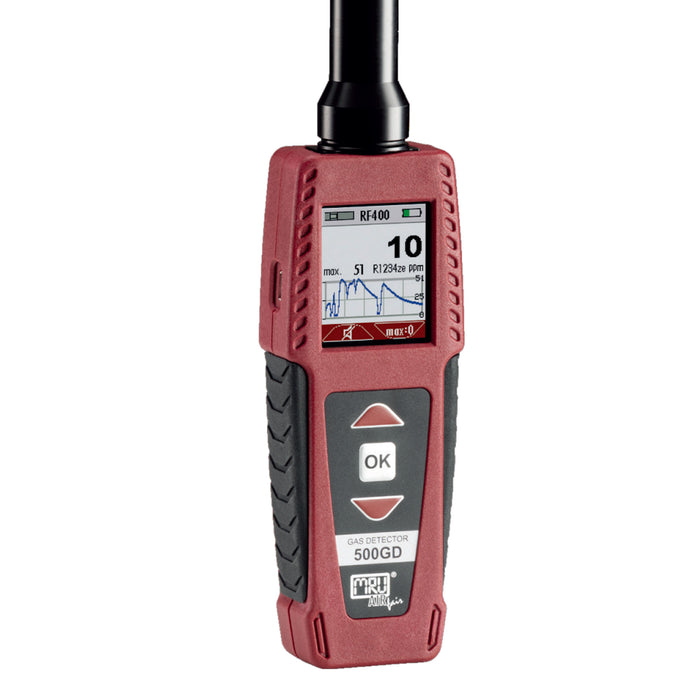 Stack Moisture Detector - 500 GD with RM 400 Sensor
Save

0

%
Save %
Original price
$712.00
-
Original price
$712.00
Free Express Shipping
Free 30 Day Returns
ISO

35+

Years of Experience

Competitive Pricing

VOSB and HUBZONE Certified Company
Description
The 500 GD from Diamond Scientific is used for locating gas leakages in installation areas. We sell, service and commission this multifunctional stack moisture detector. 
Leak detection for the following gases:
CH4
C3H8
H2
Stack moisture detection
Refrigerant leak detection
Detector for Air quality
Infrared temperature measurement
Additional sensor options available.
Perfectly suitable to locate gas leakages in installation areas. The sensor can be introduced to areas with difficult access using the flexible sensor neck.
Features:
Reliable gas leak detection and stack moisture test with only one system
Adjustable alarm thresholds
Optical alarm at the sensor and on the display of the device
Acoustic and vibration alarm by the device
Strong Lithium-Ion battery, chargeable via Mini-USB socket
Faster response time due to integrated gas suction (<1.5 seconds)
Search mode for fast leak detection (refrigerant sensor RF 400)
Reliable zeroing, even with contaminated ambient air
Technical Data:
Range
Resolution
Reaction time
LEAK DETECTION
CH4 Sensor
0 – 44,000 ppm
1 ppm
< 5 sec.
C3H8 Sensor
0 – 17,000 ppm
1 ppm
< 5 sec.
H2 Sensor
0 – 40,000 ppm
1 ppm
< 5 sec.
STACK MOISTURE DETECTION
RM Sensor
0 to 100
1
< 1 sec.
REFRIGERANT LEAK DETECTOR (RF Sensor)
Cooling agents
R134a, H2, R410a, R1234Ze
FCKW, H7CKW, FKW, H7KW, HFO
0 to 1,000 ppm
1 ppm
< 3 sec.
AIR QUALITY DETECTOR (HM Sensor)
Humidity
0 to 100 RH
Temperature
32 to 140°F
Ambient pressure
120 … 441 inH2O
Dew point
calculated out of Humidity and Temperature
INFRARED TEMPERATURE
IR Sensor
– 70 … + 380 °C
0.1 °C
– 94 … + 716 °F
0.18 °F
OTHER SPECIFICATIONS
Operating time:
up to 20 hours continuous operation
Dimensions (housing):
5.31″ x 1.97″ x 0.98″ (L: 135 mm; W: 50 mm; D: 25 mm)
Dimensions (sensor neck):
Length: 9.84″ (250 mm)
Weight:
approx. 8 ounces (without sensor) (230g)