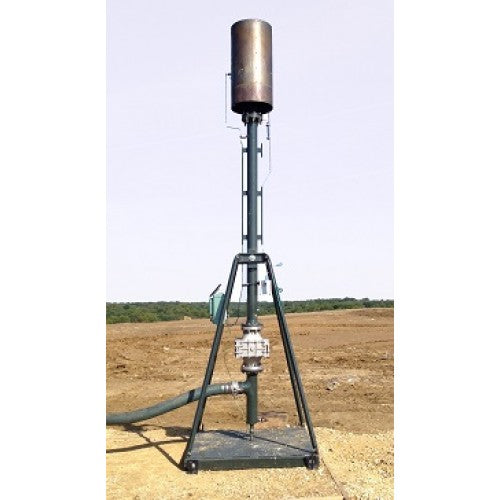 Landfill Flare - EPG LTL BioGas Flare
Free Express Shipping
Free 30 Day Returns
ISO

35+

Years of Experience

Competitive Pricing

VOSB and HUBZONE Certified Company
Description
EPG LTL BioGas Flare
LTL Biogas Flares are widely used for odor and emission control when vacuum assist is required, such as cap vents, leachate stations, or from gas outbreaks at the surface of active or closed landfill cells.
These units are ruggedly constructed for long life and feature solar-powered continuous ignition with very low maintenance requirements. Skid and trailer mounting options are available to adapt to any situation.
Applications:
RF Series LTL Biogas Flares are typically used on landfill gas vents, wells, or leachate system cleanout lines to combust flammable gases.
Standard Flare Features:
Easy Assembly and Maintenance with Rotating Column Design
Solar Electronic Ignition- No Auxiliary Pilot Gas Required
5-750 SCFM Biogas Combustion Capacities
Excellent Combustion Efficiency
High Temperature Thermocouple with Programmable Data Logger
Low Pressure, Easy Cleaning Flame Arrester Constructed with Aluminum Body and 304 Stainless Steel Internals
Carbon Steel Riser Pipe
Skid Mounted; Easily Portable
Complies with 40 CFR 60.18
Easy and Safe to Maintain!
PG Flame Pilot:
Thanks to advanced mixer technology, our new LPG Flame Pilot operates efficiently and is poised to become the most reliable LPG ignition on the market. It can be retrofitted to most flares and can be re-orificed to accommodate other fuel gases.
Some key features and characteristics include:
Installation directs the flame path at an optimum angle for better contact with combustible gas flow
Uses less propane per hour
Lights faster
Resistant to wind and down drafts as demontrated below by using forced air to attempt to extinguish the pilot flame
Contact EPG to find out how easy and inexpensive it is to use one of our flares to eliminate foul odors and VOC's (volatile organic compounds) emanating from the landfill.